MARC'S OBSERVATORY
...got its start with a brand new scope under the Christmas Tree. I didn't know a solar flare from a super-nova then, but I'm learning quickly. Some stuff you'll soon find on Marc's Observatory:
Cool facts about the stars and planets,
and help finding them in the night sky!
Amaze your friends and family!
Astronomy answers from mad scientists!
Video!
Neat technology and stuff to make astronomy even more fun.
Games and activities about space and our view from Earth!
MARC KEELAN-BISHOP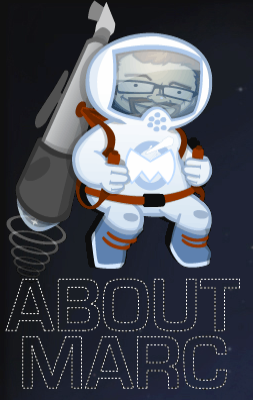 is a (very) amateur astronomer. He's pretty sure the moon is not made of cheese, and the rest... he'll leave up to the experts.
When he's not zipping around the universe on his flying telescope, Marc is a childrens' illustrator and writer, working from his home studio under the dark skies of his farm in Prince Edward County, Ontario, Canada.
Dear Astroparents...
My name is Marc Keelan-Bishop, and I am a children's illustrator and educational website designer from Picton, Ontario, Canada. Through my company, IDÉOmedia, I design educational products for many amazing organizations, including TVOntario, the Canadian Broadcasting Corporation. and Sick Kids Hospital.
MarcsObservatory.com will inspire kids to look up, and then teach them about what they're seeing. Through original content, animation, games and video, we'll explore the universe together. We'll interview kids and bring in experts from across the globe. We'll also prepare tools to help teachers squeeze the universe into their classrooms.
MarcsObservatory.com will always be a safe place for your children. We will, from-time-to-time, partner with other organizations to create incredible new learning tools. Rest assured that your children's privacy and safety will always be our first priority. (Read our privacy promise.)
We hope that you will return to Marc's Observatory with your kids soon! If you have any questions (or ideas), please contact me with the form below!
Astronomy sites
pleine-lune.org A site to understand the moon cycle and its different phases : full moon, new moon... everything is explained and the effects of the full moon on the garden and the human body as well !
EarthSky.org
Wondering what you can see in the sky tonight? Earth sky will help you find a target to check out!
EARTHTOOLS.org
EarthTools will help your figure out your place on Earth: sunset times, sunrise times, and your latitude and longitude coordinates!
HEAVENS-ABOVE.com
When will the space station fly over your head next? Was that moving light in the sky really the Hubble Space Telescope? Heaven's Above is a great website that allows you to predict when satellites will be in your area.
CLEAR SKY CHARTS
Clear Sky Charts help you predict when conditions might be good for stargazing! They combine things like cloud cover, temperature and humidity. There are Clear Sky Clocks for towns and cities across North America only.
Astronomy Club

One of the first things I did when I got my new telescope was join the local chapter of my national astronomy society, the Royal Astronomical Society of Canada. Astronomy Clubs offer lots of programs, including regular "observing nights", where members get together at night with their telescopes and binoculars, and watch the stars together! It's a fun way to learn, and newbies are always welcome! (Many clubs even offer special member fees for students)
(Are you a kid-member of an astronomy club? We want your story!)
Royal Astronomical Society of Canada Find a local astronomy club near you! These websites offer links to thousands of clubs in hundreds of countries!
WHAT'S A HEMISPHERE
HEMI = half
SPHERE = the shape of a ball (or the Earth)
HEMISPHERE = half of the Earth!
Halfway between the South Pole and the North Pole is an invisible line called the EQUATOR. It's the divider between the Northern Hemisphere and the Southern Hemisphere.
How far in the sky can you see ?